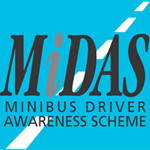 MiDAS is the award winning Minibus Driver Awareness Scheme, managed by the Community Transport Association. MiDAS is a nationally recognised standard for the assessment and training of minibus drivers. The scheme is designed to enhance driving standards and promote the safe operation of minibuses.
The objectives of MiDAS are that minibus drivers will:
Be assessed to ensure their driving skills are of an acceptable standard
Be given help where necessary to improve their minibus driving skills
Be aware of the legal, practical and safety issues surrounding minibus driving
Be trained and assessed in the safe use of wheelchair accessible minibuses where necessary
Receive a certificate that is accepted by other MiDAS members
Each course is presented in a friendly manner with the trainer able to respond to the specific needs of each person on the course. The theory sessions are complimented by practical demonstrations (using a minibus parked within our actual training facility) of how to check a minibus for road worthiness, how to operate a wheelchair lift etc.
Community Transport Glasgow is able to draw on eight years of experience of operating a fleet of minibuses to help ensure that the training is delivered in an effective and professional manner, and that it meets the needs of the course delegates. Our standards are unstinting; a MiDAS Certificate is only awarded to those reaching the required high standards. Further training and assessment is offered to anyone unable to initially reach the required standard.